Welcome to the

Bangor Historical Society!
We are dedicated to preserving our past.
---
General Membership Meetings:
Second Thursday in Feb., Apr., Jun., Aug., Oct.
Meetings are free and open to the public.
---
Bangor Historical Society
P.O. Box 25
Bangor, Michigan 49013
---
All information pertaining to this site;
Photos, Family History, General Info. Etc.;
Contact: Bob Emmert
Email; bob@bangormihistory.com
---
Phone Museum Office; (269) 427-0611
Museum Office is closed during the winter months.
Please leave a message on answering machine.
Museum & Office open Sprinig, Summer, and Fall
Museum Hours; 9am - 3pm, Friday & Saturday
Email Office; bangorhistoricalsociety@gmail.com


Events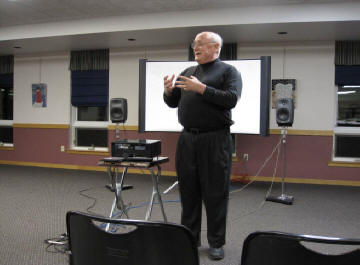 Mike Mort from Sturgis was our guest speaker at the February General Membership Meeting. Mike is a member and a driving force with the Sturgis Historical Society. He is a video producer by trade. He gave a video presentation showing the moving of the Sturgis railroad station, which will be used as their museum. Mike also answered an array of questions pertaining to the functioning of their historical society. It was a very interesting and informative meeting.