Welcome to the

Bangor Historical Society!
We are dedicated to preserving our past.
---
General Membership Meetings:
Second Thursday in Feb., Apr., Jun., Aug., Oct.
Meetings are free and open to the public.
---
Bangor Historical Society
P.O. Box 25
Bangor, Michigan 49013
---
All information pertaining to this site;
Photos, Family History, General Info. Etc.;
Contact: Bob Emmert
Email; bob@bangormihistory.com
---
Phone Museum Office; (269) 427-0611
Museum Office is closed during the winter months.
Please leave a message on answering machine.
Museum & Office open Spring, Summer, and Fall
Museum Hours; 9am - 3pm, Friday & Saturday
Email Office; bangorhistoricalsociety@gmail.com


Bangor Historical Society
Rummage Sale
This year's rummage sale was a great success. Many thanks to all who participated. A very special "Thank You" goes to Penny Popp who coordinated the event. A lot of hard work goes into the preparation of the sale. It takes time, energy, and experience to pull this off. Penny and helpers did a great job. Thanks again to all who gave a helping hand.
Events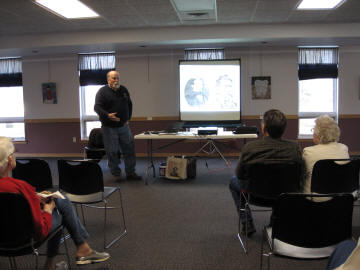 Mike Culp from Kalamazoo was our guest speaker at the April General Membership Meeting. Mike's presentation was about the 13th Michigan Volunteer Infantry in the Civil War. That regiment enrolled several local men from the Bangor area. He spoke about the officers, enlisted men, and their lives during and after the War. It was an interesting evening and an enjoyable time with the membership.
Cemetery Cleanup Date
This year's cemetery cleanup is set for Saturday, May 2nd. We will meet at Arlington Hill from 10am to 2pm. Bring a shovel, hoe and/or a rake and help make this sacred cemetery a beautiful and peaceful final resting place.